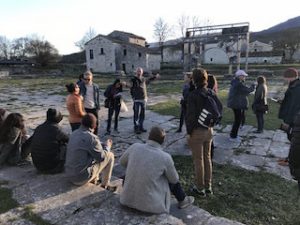 Classics 253 (Classical Studies in Italy)
This course introduces students to the history and art of ancient Italy, focusing on the city of Rome and the Bay of Naples area. It covers more than 1000 years of civilization, beginning with the Etruscans and ending with the fall of the Western Roman Empire. The itinerary includes extended stays in Civitavecchia, Rome, and Pompeii. When not visiting museums and archaeological sites, students have the opportunity to experience modern Italian culture as well.
GE Requirements:  HWC, ALS-A
Counts toward Classics, Greek, Latin, and Ancient Studies majors.
Offered in alternate years during Interim. Will next be taught in January, 2022. Click here for an information sheet from 2020.