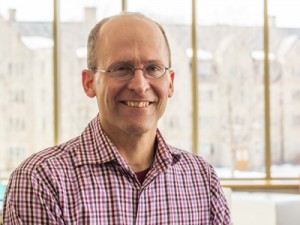 Christopher M. Brunelle, Assistant Professor Emeritus of Classics
(taught at St. Olaf from 2002 to 2018)
E-mail: brunelle@stolaf.edu
B.A. (Classics & Music), Carleton College, 1989
B.A. (Classics), King's College, University of Cambridge, 1991
M.A., Ph.D. (Classics), University of North Carolina-Chapel Hill, 1997
A specialist in Latin poetry, Chris Brunelle has published Ovid, Ars Amatoria: Commentary on Book 3 (Oxford University Press), which won the Ladislaus J. Bolchazy Pedagogy Book Award for 2016. He has written articles on Ovid (including a chapter in Gendered Dynamics in Latin Love Poetry) and on teaching, along with a number of book reviews, and is joint author of Latin Laughs, a video and workbook on Plautus' Poenulus. Most recently he published The Church Year in Limericks (MorningStar 2017).
Having studied with Fr. Reginald Foster in Rome, Brunelle is a fluent speaker of Latin and a composer of Latin poems, inscriptions, and documents. He has twice given a public reading of Love Is a Rhythmical Art, his translation of Ovid's Ars amatoria into English limericks.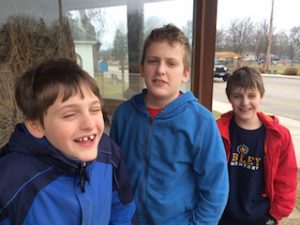 Brunelle taught for four years (three of them as a Mellon Fellow) at Vanderbilt University and a year at Gustavus Adolphus College before coming to St. Olaf. He is Past President of the Classical Association of Minnesota and Annual Fund Chair for the SCS (Society for Classical Studies). He frequently performs as a collaborative pianist. Currently he is Associate Director of Alumni Relations at Carleton College and Director of Music at the First United Church of Christ in Northfield.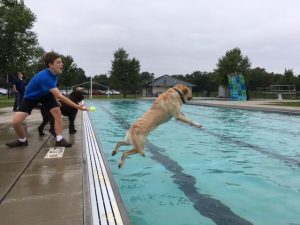 Besides being married to Carleton College history professor Serena Zabin, Brunelle's greatest claim to fame is having learned to sing with a British accent in the King's College Choir of Cambridge. He and Serena have a dog, Thalia, who loves taking a dip in the pool (see photo for proof), and three sons, Sebastian, Julian, and Leo, shown above (left to right) admiring the world's largest ball of twine in Darwin, Minnesota.