St. Olaf Latin Play MMXIV
Click here to read a news article about the 2014 production of Plautus' Miles Gloriosus.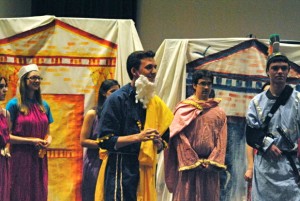 Actors perfect their pig puns at the dress rehearsal.
TOUR SCHEDULE 

Wednesday, March 12, 2014
Aspen Academy, Savage – 8:30 a.m.
The Blake School, Hopkins – 10:30 a.m.
Benilde-St. Margaret's School, St. Louis Park – 1:15 p.m.
University of St. Thomas, St. Paul – 4:00 p.m.
Thursday, March 13, 2014
Paideia Academy, Apple Valley – 8:15 a.m.
Seven Hills Classical Academy, Bloomington – 10:00 a.m.
John Marshall High School, Rochester – 1:30 p.m.
Gustavus Adolphus College, St. Peter – 7:00 p.m.
Friday & Saturday, March 14 & 15, 2014
St. Olaf College, Northfield – 7:30 p.m., Christiansen Hall of Music 233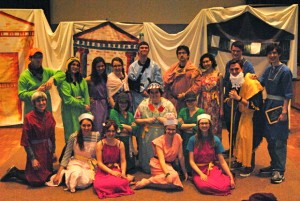 Ready or not, it's time to leave for our tour! 
CAST OF CHARACTERS
Pyrgopolynices: Joseph A. Burkhart '17
Singing Hams:  Katherine A. Bello '17, Katherine L. Hansen '14, Karice E. Myers-Busch '17, Kaylyn P. Robinson '14
Artotrogus:  Allison R. Lonigro '16
Palaestrio:  Kaitlan J. Bender '16 – 1st half of play; Grace B. Koch '15 – 2nd half of play
Periplectomenus:  Kirby L. Schoephoerster '17
Cario: Nicholas A. Gantt '15; Puer: Matthew D. Fleshman '14
Sceledrus & Lurcio:  Clemens Bart & Hanna Seitz (international students)
Philocomasium:  Vivian C. Williams '15
Pleusicles:  Leif D. McLellan '16
Acroteleutium:  Eleanor D. Anderson '16
Milphidippa:  Martha E. Melin '16
Instrumentalists:  Prof. Anne H. Groton (piano), Allison R. Lonigro '16 (flute), Karice E. Myers-Busch '17 (oboe)
Scenes 1-2: A chorus of singing hams arrives in Ephesus just as Pyrgopolynices ("Frequent Fighter of Fortreses"), a braggart soldier, returns home. He is escorted by Artotrogus ("Bread Gobbler"), a parasite who earns his meals by flattering the soldier. The hams join the soldier and parasite in singing about Pyrgopolynices' extraordinary virtues (Song #1). As the soldier and the hams enter the bank, Artotrogus hungrily follows.
The crafty slave, Palaestrio ("Wrestler"), appears and explains, in a delayed prologue, how he has become the soldier's slave. Formerly he served a young Athenian, Pleusicles ("Sailor Guy"), whose girlfriend, Philocomasium ("Fun at a Party"), the soldier kidnapped and took home with him. When Palaestrio tried to reach his master with this news, the slave was seized by pirates and sold, by chance, to the same soldier. The girl and the slave hope to escape from Pyrgopolynices and return to Athens.
Palaestrio has managed to send a letter to his former master, telling him where he and Philocomasium are. Pleusicles has just arrived in Ephesus and is staying with a helpful old man who, coincidentally, lives right next door. The crafty slave has cut a secret passageway in the wall between the two houses, enabling the girl to visit her boyfriend without the soldier's knowledge.
Scenes 3-7: A stray pig appears on the roof of the neighbor's house. While Sceledrus and Lurcio, the soldier's barbarian slaves, try to catch it, Cario and Puer, the neighbor's geeky slaves, watch. Looking down through an opening in the roof, the barbarian slaves happen to see Philocomasium and her lover kissing.
Periplectomenus ("Entangler") scares off the barbarian slaves and chastises his own slaves for having done nothing about the eavesdroppers on the roof (Song #2). After the song, Palaestrio puts on his thinking cap and dreams up a plan to fool the barbarian slaves into believing that the couple they saw kissing were Philocomasium's (imaginary) twin sister and the sister's boyfriend, both supposed to have come on a visit to Ephesus from Athens and to be staying in the neighbor's house as his guests. When the barbarian slaves return, still quite frightened, Palaestrio, Philocomasium, and Periplectomenus confuse them so much that they stop worrying about what they saw and instead run off in search of the elusive pig.
Scenes 8-9: Palaestrio now cooks up another scheme. After making sure they are alone and the coast is clear (Song #3), he explains his plan: Periplectomenus (a bachelor) will ask a lady friend of his to pretend to be his wife. Palaestrio will convince the soldier that this woman hates her husband and is madly in love with the soldier, prompting him to lose interest in Philocomasium. Palaestrio will tell the soldier that Philocomasium's mother and sister from Athens are by chance visiting Ephesus that very day and could take her home with them. Pleusicles will dress up like a ship captain and escort her to the harbor.
Periplectomenus exits to find his lady friend and her maid, while Pleusicles exits to find a disguise.
Scenes 10-16: The old man returns with his lady friend, Acroteleutium ("Tippy Top"), and her maid Milphidippa ("Funny Filly"); they go inside his house to prepare to fool the soldier. Pyrgopolynices comes out of the bank and runs into Palaestrio, who tells him that the neighbor's wife is dying to meet him. At that moment Milphidippa emerges and sings about how much Acroteleutium loves the soldier (Song #4). Eager to meet her, Pyrgopolynices rushes into his own house to tell Philocomasium that he is sending her home to Athens. As soon as he reappears, Acroteleutium and Milphidippa complete their trickery.
Scenes 17-20: Pleusicles, wearing his disguise, comes to escort Philocomasium to the ship; she pretends to be reluctant to leave the soldier, but the music sung by the hams (Song #5) cheers her up. Pyrgopolynices grants her wish to let her take Palaestrio with her to Athens, thus enabling the crafty slave to escape along with Philocomasium and Pleusicles.
Ready for his romantic encounter with Acroteleutium, the hapless soldier hurries to the house next door, only to discover that he has been bamboozled by a bunch of ham actors!