St. Olaf Latin Play MMXI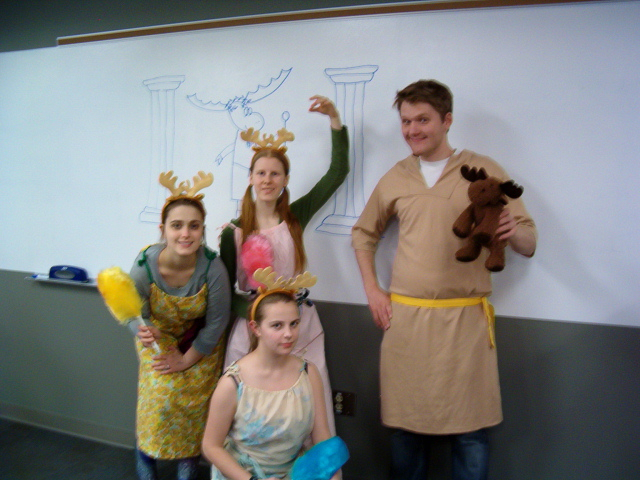 Click here to download a slideshow from the performance at St. Agnes School.
The St. Olaf College Department of Classics
presents
Plautus' PSEUDOLUS
an ancient Roman comedy
performed in a musical mixture of Latin and English
PERFORMANCES AT ST. OLAF COLLEGE
Friday & Saturday, May 6 & 7, 2011
Fosnes Hall, 233 Christiansen Hall of Music (8:15 p.m.)
TOUR TO OTHER SCHOOLS
Wednesday, May 4, 2011
St. Agnes School (9:30 a.m.), St. Catherine University (11:30 a.m.),
Nova Classical Academy (2:45 p.m.),
University of St. Thomas, OEC Auditorium (7:00 p.m.)
Thursday, May 5, 2011
Century High School (8:50 a.m.), Benilde-St. Margaret's School (12:10 p.m.),
Edina High School (2:10 p.m.),
Gustavus Adolphus College, Alumni Hall (7:30 p.m.)
All performances free and open to the general public; no tickets needed.
Humor suitable for all ages; children welcome!
Knowledge of Latin is NOT required to enjoy the show!

CAST OF CHARACTERS
Pseudolus, crafty slave: John R. Schwirtz '14; Brian D. Thoes '14
Calidorus, young man in love : Adam D. Berndt '13
Ballio, slave-master: Matthew D. Friedrichsen '11
Ballio's ballerina slaves: Juliette A. Gibes '14;
Katherine A. Crawford '11;
Katherine L. Hansen '14; Emily Marie Sandquist '13
Simo, old man, father of Calidorus: Rebecca A. Frank '14
Callipho, old man, Simo's neighbor: Allison L. Young '14
Harpax, soldier's slave: Jason M. Chance '11
Charinus, Calidorus' friend: Jennifer A. Stanull '11
Ballio's hired cooks: Madeline M. Giordana '13;
Elise M. Hebel '13
Simia, handyman servant: Martin P. Shedd '11
PLOT SUMMARY
Scenes 1-2: Calidorus is heartbroken that his girlfriend, a ballerina slave named Phoenicium, has been sold to a Macedonian soldier. Ballio, the double-crossing scoundrel who owns her, had earlier promised to sell her to no one but Calidorus. The young man asks Pseudolus to read aloud the wretched love-letter that Phoenicium has written to him (Song #1). Although Pseudolus has no idea how he will do it, be nevertheless promises to obtain Phoenicium for Calidorus before the day is over.
Ballio suddenly emerges from his house, being even more obnoxious than usual because it is his birthday. Phoenicium and three other ballerina slaves sing (Song #2) about their demanding master and then dance away in search of birthday gifts for him.
Scenes 3-4: Pseudolus and Calidorus beg Ballio not to sell Phoenicium to the Macedonian soldier. Ballio is willing to break his agreement with the soldier, but only if Calidorus is able to pay him Phoenicium's full price (20 minae) before a slave sent by the soldier arrives to pick up the girl. As Ballio heads to the forum to hire cooks for his birthday dinner, Pseudolus sends Calidorus off to find someone who can help them.
While Pseudolus is pondering what to do next, Calidorus' father Simo and his neighbor Callipho enter; Simo is grumbling about his son's lovesick behavior. Pseudolus warns Simo that he plans to get 20 minae from him by the day's end. He then tops that boast by claiming that he will also outwit Ballio and obtain Phoenicium for Calidorus. Simo unwisely bets him 20 minae that he will not be able to do this.
Scenes 5-6: In Song #3 Pseudolus confidently predicts the success of his plan–even though he has not yet thought it up!   The soldier's slave Harpax enters, carrying a letter with a token that identifies the sender as Polymachaeroplagides. Pseudolus pretends to be Ballio's assistant and fools Harpax into giving him the letter; he then sends Harpax to an inn and promises to fetch him as soon as Ballio comes home.
As Pseudolus rejoices in his own cleverness, Calidorus returns with his friend Charinus (in our version an exchange student from Gaul). Pseudolus asks whether Charinus knows of any slave who could pretend to be Harpax and trick Ballio. Charinus suggests Simia, the handyman servant.
Scenes 7-8: Ballio now returns from the forum with two arrogant cooks (Song #4). As they and Ballio disappear into the house, Simia comes on stage, disguised as Harpax. With Pseudolus watching from afar, Simia accosts Ballio and is so convincing that Ballio gladly hands Phoenicium over to him, imagining him to be Harpax. Ballio is elated, believing that he has foiled Pseudolus' plots once and for all.
Scenes 9-10: As Ballio is sharing his good news with Simo, the real Harpax shows up, singing about his dutifulness (Song #5). Believing him to be an impostor sent by Pseudolus, Ballio and Simo make fun of him until they realize that it is they who have been fooled. Harpax then forces Ballio to return the soldier's money, ruining his birthday. Pseudolus, having freed Phoenicium and won his wager with Simo, gets the last laugh.