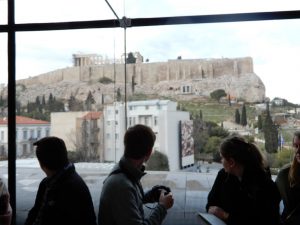 Classics 251 (Classical Studies in Greece)
This course introduces students to the history and art of ancient Greece. It covers more than 2,000 years of Greek civilization, from the Bronze Age through the archaic, classical, and Hellenistic periods. The itinerary takes students to every major region of Greece, with extended stays in Athens, Crete, the Peloponnese, and Thessaloniki. When not visiting museums and archaeological sites and learning about ancient Greek culture, students have the opportunity to experience modern Greek culture as well.
GE Requirements:  HWC, ALS-A
Counts toward Classics, Greek, Latin, and Ancient Studies majors.
Offered in alternate years during Interim. Will next be taught in January, 2021. Click here for the information sheet from 2019.