Success Stories from Our Alumni
Our alumni work in a variety of fields and use the knowledge and skills they acquired from the Norwegian major and Nordic Studies concentration in different ways every day. Here are some of their reflections on how majoring or concentrating in Norwegian or Nordic studies at St. Olaf has helped them on the job market as well as on the job.
Norwegian alumni: want to be featured? Fill out this Google Form!
Raffi Freedman-Gurspan '09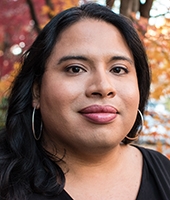 Current job: Director of External Relations, National Center for Transgender Equality
Norwegian and Political Science major; Nordic Studies concentrator
"My interest and knowledge of social policy and political developments in Norway and the Nordic nations has allowed me to point to policy schemes and ideas that my colleagues would not necessarily know about.  For example, as LGBT Liaison in the White House, referring to developments in the Nordic nations on LGBT issues was helpful to show how progress on human rights is good for a nation. I have also interacted with some Norwegians in my jobs: for example, we arranged for a group of Norwegian professionals to meet with me when I was LGBT Liaison. I of course get to use my Norwegian language skills with Norwegians whenever I get the chance.   Lastly, I have attended programming at the Norwegian Embassy in DC including those related to my work on LGBT and human rights issues. So majoring in Norwegian and Nordic Studies was worth it! I kept my love of Norway in my heart every day and St. Olaf College provided an enormous foundation for me to become a proficient speaker, to have the opportunity to live in Oslo for a year, and to make long lasting connections.  I have said 'You know, in Norway …' in almost every job I had since graduation. Tusen takk, St. Olaf College!"
Andrew Fjerstad '10
Current job: Director of Customer and Sales Support, Inland Packaging
Norwegian and History major; Nordic Studies concentrator
"Believe it or not, the Major/Concentration aren't just great conversation starters; they're valuable pieces of my leadership toolkit! Majoring in a foreign language gave me the ability to improve my communication, listening and comprehension skills. Since graduating from St. Olaf, I have managed teams ranging from 5–300 people, and having the ability to learn and listen in different ways has proven critical to my success. The major also provided me the opportunity to connect with my heritage and has led to a lot of self-enrichment that I would not have otherwise enjoyed!"
Laila Simon '15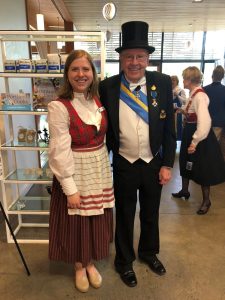 Current job: Program Coordinator, Nordic Northwest
Norwegian and English major; Nordic Studies concentrator
"I am shocked almost daily at how much this concentration has influenced my work life. I work at a Nordic Cultural Center in Portland called Nordic Northwest. I am, in a way, continuing my 'Nordic Studies' every day by planning events and interacting with the community surrounding the five Nordic countries. It is the most fun part of the job and some days I even get to speak Norwegian!"
Megan Boos '14
Current job: Sr. Demand Forecast Analyst, Target
Norwegian and Math major
"The indirect impact [of my Norwegian major] I've seen is through my interactions daily with Target India's team members–having been a Norwegian major [and] studying abroad have made me more interested in working globally and [being] culturally thoughtful."
Caroline Nitz '11
Current job: Senior Publicity Manager, Graywolf Press (Minneapolis, MN)
English and Media Studies major; Nordic Studies concentrator
"Graywolf publishes a handful of Norwegian authors in translation so I've been able to occasionally put my language skills to use in email correspondence. The concentration also made me aware of organizations that we've been able to collaborate with when bringing Norwegian authors on tour in the US."
Jennifer Erikson, PhD '01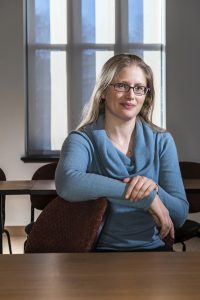 Current job: Associate Professor of Political Science and International Studies, Boston College
Political Science major; Nordic Studies concentrator
"As a scholar of international relations, [my Nordic Studies concentration] has kept me alert to and understanding better the role of the Nordic states in European and international politics, which in turn has raised research questions for me about why these states behave in particular ways that are sometimes different (and sometimes not different) than other Western states. These questions tend to inform my broader research agenda on humanitarian arms control and global security governance. …  In addition, I incorporate Nordic states in teaching on EU 'foreign policy' and have published articles on the EU as a global actor, in which understanding of Nordic states has contributed."