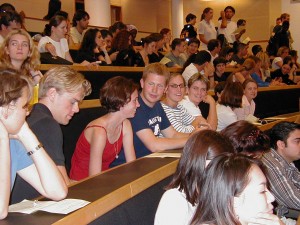 The Nordic Studies concentration at St. Olaf College is an individualized study of the history, literature, societies, and cultures of the Nordic countries: Iceland, Norway, Finland, Sweden, and Denmark. The concentration is designed to meet the needs of students who desire a more comparative, international, or interdisciplinary study of the Nordic region than that offered through the Norwegian major. It is a self-designed combination of courses, approved by the Director of Nordic Studies (always the chair of the Norwegian Department, currently Kari LIe Dorer).
The Nordic studies concentration consists of five courses:
One Norwegian language course beyond FOL-N. For example, Norwegian 232: Intermediate Norwegian II (or above) or; advanced intermediate knowledge of a different Nordic language.
One or two other courses from Norwegian department offerings selected from Norwegian 130, 140, 224, 240, 244, 253, 282, 371, 372, or others, as approved by the director.
Two or three courses from other departments, such as History 222, Philosophy 233, or other courses with significant content relating to the Nordic countries.
Up to three courses from study abroad programs such as DIS, HECUA: The New Norway, and university direct enroll programs may be counted toward the Nordic Studies concentration.
At least two of the five courses must have a focus on at least one Nordic country other than Norway.
To become a Nordic Studies Concentrator, contact Kari Lie Dorer, Director of Nordic Studies, and inform the registrar by filling out the form at the registrar's office.