Margaret Hayford O'Leary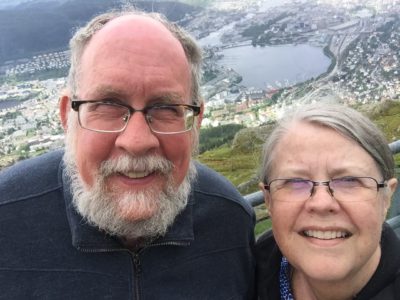 Margaret Hayford O'Leary taught at St. Olaf College from 1977 to 2018. She did her graduate work at the University of Wisconsin-Madison, and her undergraduate degree at Concordia College (Moorhead) in German and education. She began learning Norwegian as a young teenager at Skogfjorden, the Concordia College Norwegian Language Village, where she spent 15 years first as camper and later as staff member. She specialized in language pedagogy, particularly the use of technology in teaching Norwegian. Her first foray into creating language teaching materials was in the early 1990s when she co-authored a textbook for intermediate Norwegian, Norsk i sammenheng, with Frankie Shackelford. She later co-authored a CD-ROM for learning Norwegian called KlikkNorsk. with Nancy Aarsvold and Louis Janus. These grammar exercises are now freely available at the web portal, På gang (paagang.com), in addition to other lessons for intermediate Norwegian and above.
In 2010 she published Culture and Customs of Norway (Greenwood Press, 2010). Her most recent book is Colloquial Norwegian (Routledge, 2016), co-authored with Torunn Andresen.
Margaret traveled to Norway as often as possible, and spent two sabbaticals at the University of Oslo. She also led several study tours to Norway and Scandinavia, including two for Smithsonian and several for St. Olaf Study Travel programs. In 2005 she led a companion tour to the St. Olaf College band, choir and orchestra tours of Norway. In 2013 she led another St. Olaf tour, accompanying the St. Olaf Choir on its centennial tour of Norway, and in 2017 led a St. Olaf group to Bergen and Oslo with her husband going along as assistant. One highlight of the tour was dinner with Knut Brakstad, private secretary to His Majesty, King Harald V.
From 2007-2016 she taught Norwegian language and culture at the University of Oslo International Summer School.
In 2016 she was awarded Kongens Fortjenstorden, ridder 1. klasse (The Royal Order of Merit, Knight First Class). She had an audience with HM King Harald on January 22, 2018.
Margaret lived in Northfield, MN with her husband, Doug. Margaret's daughter graduated from St. Olaf cum laude in 2002 with a Norwegian major, after having studied in Norway and Jerusalem, and William Mitchell law school in 2009. She served as assistant county attorney in Morrison County. She blessed Margaret with twin grandchildren, a boy and a girl, born on 17. mai! Margaret's older son graduated cum laude from Concordia College (Moorhead) in 2007 with a major in Computer Science and is a software engineering consultant in the Twin Cities. Margaret's younger son graduated Phi Beta Kappa, magna cum laude, from St. Olaf, with a major in Norwegian and concentrations in Nordic Studies and Environmental Studies. He spent a semester on the DIS program in Copenhagen, Denmark, and studied at summer schools in Bergen and Oslo. He completed his masters in Urban and Regional Planning at the University of Minnesota. He also is a web designer.
Taken from Margaret's website. For information about memorials, please click here.
Solveig Zempel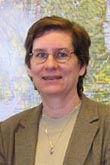 In my spare time, my husband and I (and occasionally our grown children) greatly enjoy our cabin in the north woods of Minnesota, on Lake 252. In all seasons, we enjoy the quietness of the woods, the beauty of the small lake, berry picking, observing wildlife, and visiting with friends and relatives who have cabins nearby.
In August of 2013 I will be participating in the 140th reunion of descendents of the wagon train, commemorating a group of mostly Norwegian and a few Irish immigrant pioneers who moved from Fillmore County in Minnesota (and some from Iowa) to Dakota Territory (now Minnehaha County, South Dakota) in 1873, where they established homesteads. Information on the reunion can be found on the reunion Facebook page by searching for 140th Wagon Train Reunion.
Odd Lovoll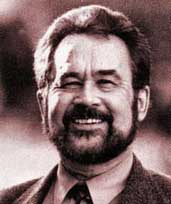 Odd Sverre Lovoll served on the faculty at St. Olaf College from 1970-2000 where he held the King Olav V Chair in Scandinavian-American Studies. He received his education both in Norway and in the United States, passing university exams at the University of Bergen in 1961 and at the University of Oslo in 1966 and 1967. He did his graduate work at the University of North Dakota (M.A. 1969) and the University of Minnesota (Ph.D. 1973).
Following his tenure at St. Olaf, Lovell continued a part-time appointment in History at the University of Oslo. He served as publication editor for The Norwegian-American Historical Association from 1980-2001. In that capacity he edited and supervised publication articles mainly on Norwegian-American and Scandinavian-American immigration.
An immigrant himself, Lovoll has written many books about the waves of émigrés from Norway. He is considered an authority on immigration from Norway to America. He has shared that knowledge for decades, writing several books on the Norwegian-American Immigrant experience. He wrote Norwegians on the Prairie, Across the Deep Blue Sea, and Norwegian Newspapers in America, as well as the Promise Fulfilled: A Portrait of Norwegian Americans Today.
Lovoll was decorated with the Knight's Cross First Class of the Royal Norwegian Order of Merit in 1986 by Olav V of Norway. In 1989 he was inducted into membership in The Norwegian Academy of Science and Letters. He was inducted int the Scandinavian Hall of Fame at the 2001 Norsk Hostfest.
Odd married Else Navekvien in 1958 and they had two children, Audrey and Ronald. The family resided in the United States and Norway.