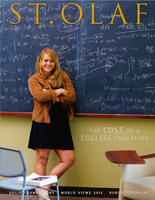 St. Olaf Magazine earned six "Excellence Awards" at the 15th annual Minnesota Magazine & Publishing Association awards (2011), including Gold for Overall Design and Single Page Design (A Sense of Place); Silver for Regular Column (Almanac), Feature Design (Catch & Release), Spread Design (World Views 2010); and Bronze for Overall Excellence and the profile article Bright Green Research by Greg Breining. St. Olaf Magazine also received a Bronze Award for Best Alumni/Institution Magazine in the 2011 Pride of CASE V Awards.
What's Inside
Acknowledging concerns about the cost of a college education, St. Olaf President David R. Anderson forthrightly addresses the challenges that families and students are facing – and what St. Olaf is doing about it.
Updating aging residence halls has become a priority on Manitou Heights.
Avast! Historian Steve Hahn's investigation into the real pirates of the Caribbean challenges our romanticized notions of the men who sailed under the Jolly Roger.
Winning student entries from the annual Gimse International and Off-Campus Studies Photo Contest feature images from China, Ecuador, Italy, New York City, New Zealand, and more.
Kathryn M. Lohre '99, president of the National Council of Churches, is providing leadership, seeking unity, and building relationships.
Alumni Achievement
By Bradley West '13, Kyle Schut '13, Carole Leigh Engblom, J. Trout Lowen
St. Olaf College honors three alumni for their lifelong achievements and professional contributions: Mark B. Brown '78, Samuel L. Hanson '61, and Steven H. Miles '72.
Actress Betty White comes to St. Olaf College.