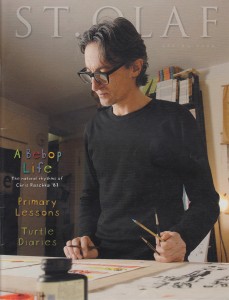 St. Olaf Magazine earned seven awards at the 13th annual Minnesota Magazine & Publishing Association Excellence Awards, including Gold for Overall Excellence and Overall Best Design, Silver for Best Cover (Spring 2008), Gold for Best Feature Article (A Bebop Life), Silver for Best Feature Article (Fire and Ice), Silver for Best Single Topic Issue (The Power of Knowledge, Winter 2008) and Bronze for Best Single Topic Issue (World Views, Fall 2008). St. Olaf Magazine also received a Gold Award for Best Alumni/Institution Magazine in the 2008 Pride of CASE V Awards.
With more than 30 children's books under his belt, another two dozen illustration credits, and a Caldecott Medal and Caldecott Honor, Chris Raschka 81 is known for inventive, off-beat storytelling and imaginative illustrations. (MMPA Gold Award for Best Feature Article)
As students flock to her children's literature class, English Professor Jan Hill uses their beloved books from childhood to teach what it means to be human.
Turtle Diaries
By Patricia Grotts Kelly '77
Thanks to Biology Professor Steve Freedberg, St. Olaf is home to one of the most diverse collections of rare turtles at any American college or university, and St. Olaf students have the unique opportunity to work with them hands-on.
The five faculty members who retire this year have coached championship athletes, led students on learning experiences around the world, written books, organized international conferences, and influenced the lives of countless students. St. Olaf says farewell to Professors Bill Thornton, Cliff Corzatt, Gary Wicks '65, and Eric Nelson.
Service learning trips change the way Hawkinson scholars Vera Belazelkoska '09 and Laura Groggel '08 view their place in the world.
Dancer and choreographer Heather Klopchin brings real-world experiences to St. Olaf dance students.
A good, contemplative walk begins and ends the day on just the right note.