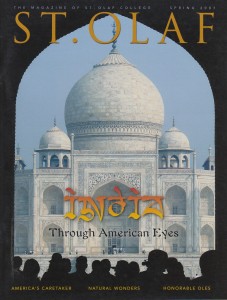 St. Olaf Magazine received Gold Awards for Overall Excellence, Best Overall Design and Best Feature Article (Natural Connections) at the 12th annual Minnesota Magazine & Publishing Association Excellence Awards in 2007. St. Olaf Magazine also received a Silver Award for Best Alumni/Institution Magazine in the 2007 Pride of CASE V Awards.
Mark Dimunation '74 oversees some of America's most precious books as chief of the Library of Congress' Rare Book and Special Collections Division.
For St. Olaf students, international travel is almost commonplace. But for a group of Study Travelers spending two weeks in India, witnessing the glory of its past and the challenges of its present, life on the road offered a rare opportunity to experience a global perspective.
St. Olaf student environmentalists introduce Northfield youngsters to the wonders of the natural world. *MMPA Gold Award for Best Feature Article
A commitment to service and academics defines the St. Olaf students who live in honor houses on St. Olaf Avenue and elsewhere on campus.
Professor of Psychology Chuck Huff speaks out.
Chloe Stull-Lane '07 works to ensure that the developing world has equal access to safe and plentiful water.