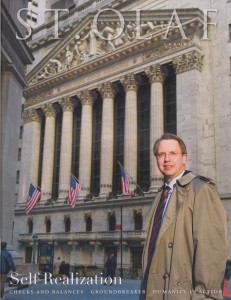 St. Olaf Magazine earned five awards at the 14th annual Minnesota Magazine & Publishing Excellence Awards, including Gold for Overall Excellence, Gold for Best Cover (Winter 2010), Gold for Best Feature Article (Lead Dog), Gold for Best Use of Photography (Lead Dog), and Silver for Overall Best Design. St. Olaf Magazine also received a Gold Award for Best Alumni/Institution Magazine in the 2010 Pride of CASE V Awards.
Named "the most accurate forecaster for 2009" by Bloomberg News, Dean Maki '87, Chief U.S. Economist at Barclay's Capital in New York City, spends his days analyzing monetary and fiscal policy.
As the global economy shifts from concept to reality, St. Olaf's Asian Studies Department is educating students to better understand and embrace an increasingly dynamic region of the world.
St. Olaf offers students many things, but perhaps the greatest opportunity it offers is the chance to experiment with versions of their future selves.
Megan Gregory '04 combines her interest in sustainable agriculture with her concern for social justice, sowing seeds of change from St. Olaf to El Salvador and New York City.
Determined to help his native Nepal overcome the effects of war, Subhash Ghimire '10 has established a summer camp, scholarship fund, and library in a region of the country hit hard by violence.
Jennifer Eikren '98 heads the U.S. office of The Rights Practice, a London-based nonprofit that specializes in human rights and public participation in China.
Religion Professor Bill Poehlmann; French Professor M. Clare Mather; English Professor Jonathan Hill; Nursing Professor Judy Sateren '68; Music Instructor (Flute) Kay Sahlin '66; and English Professor Richard Buckstead