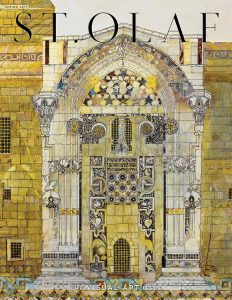 St. Olaf Magazine earned eight "Excellence Awards" at the 20th annual Minnesota Magazine & Publishing Association Excellence Awards 2016 Gala. In the Education category, St. Olaf Magazine was recognized with awards in Feature Writing and Design for "La Géographie Musicale de Paris 1924" (The Musical Geography of Paris 1924) by Joel Hoekstra and "The Power of Story" by Jan Hill, as well as for Overall Excellence, Overall Design, Spread Design ("Vintage Cuba"), Regular Column ("Almanac"), and Cover Design. And, for the second year in a row, St. Olaf Magazine was a finalist for the MMPA Magazine of the Year award.
What's Inside
Photo by Tom Roster
Seniors Joe Coffey and Claire Walters are the 2017 recipients of the Dave Hauck Award.
By Suzy Frisch
St. Olaf honors professors Wendy Allen, Gary DeKrey '71, Margaret Eaves Smith, Gary Gisselman, Mary Griep, Carol Holly, Kris MacPherson, James May, Harriet McCleary, Gary Miessler, Todd Nichol '74, and LaVern Rippley, who are retiring this year.
By Marla Hill Holt '88
Taylor Davis '16, St. Olaf College's first emerging curator, enhances the Flaten Art Museum's curatorial program.
By Marla Hill Holt '88
Steven Carpenter '82 believes in the power of opening doors for young people in the arts, reflected in his support of St. Olaf's Fifth-Year Emerging Artist Program.
By Marla Hill Holt '88
Fifth-year artists Madison Vang '16, Erika Terwilliger '16, Marra Evans '16, and Jon Tiburzi '16 are making the visual arts the core of their professional future.
By Joel Hoekstra '92
St. Olaf Art Professor Mary Griep has created a remarkable body of work, the Anastylosis Project, inspired by sacred architecture of the 11th and 12th centuries from around the world.
By Erin Peterson
Video artist Mary Reid Kelley '01 has earned worldwide acclaim by exploring difficult ideas with depth and dark humor.
By Erin Peterson
Illustrator Ward Sutton '89, the man behind the Onion's satirical cartoons, skewers unlikely targets in his new book.
Class Notes, On the Shelf, Future Oles, Weddings and Deaths, Alumni & Family Travel
By Jeff Sauve
A memorable St. Olaf Choir tour to Iceland 60 years ago had its roots in international diplomacy.