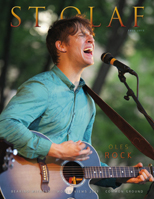 St. Olaf Magazine most recently earned six "Excellence Awards" from the Minnesota Magazine & Publishing Association: Gold for Overall Excellence, Gold for Overall Design, Gold for Feature Article ("Call of the Wild"), Gold for Profile Article ("Counter Balance"), Gold for Feature Design ("Call of the Wild"), and Bronze for Single Topic Issue ("It's Saturday Night!").
What's Inside
The St. Olaf Choir returns to Norway to celebrate its 100th anniversary.
After more than a century of shared history, St. Olaf and Carleton College are entering a new era of collaboration, one that has grown out of past and current successful partnerships.
Setting down roots in the idyllic Willamette River Valley, Oregon's Pinot Noir country, two St. Olaf families are living a wine country dream.
Winning student entries from the 30th annual Gimse International and Off-Campus Studies Photo Contest feature images from China, Egypt, Greece, Italy, Norway, Tanzania, and more.
St. Olaf is known worldwide for its music and musicians, and its conservatory-style training. But there's another side to music at St. Olaf. The college has long been an incubator of musicians who follow a very different musical path than one might expect of a St. Olaf graduate.
*MMPA Gold Award for Best Regular Column