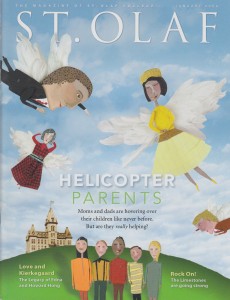 St. Olaf Magazine earned four awards at the 10th annual Minnesota Magazine & Publishing Association Excellence Awards in 2006, including Gold for Overall Best Design, Gold for Best Feature Article (On the Front Lines), Silver for Best Single Topic Issue (Global Oles), and Bronze for Overall Excellence.
At the 9th annual MMPA Excellence Awards in 2005, St. Olaf Magazine earned three awards, including Gold for Overall Excellence, Gold for Overall Best Design, and Gold for Best Single Topic Issue (The Norway Issue).
The parents of today's students are intimately involved in their children's college career: from the choice of college to decision-making about courses, majors, and extracurricular activities. Are they hovering or helping?
Entrepreneurs Nick Anderson '97 and Dan Chang '95 have built a business, Rush River Brewery Company, around their passion for centuries-old British and European brewing traditions.
For nearly 70 years, Howard '34 and Edna Hatlestad Hong '38 have influenced generations of Oles with their passion for Danish philosopher Soren Kirekegaard, with their deep faith and humor, and with their devotion to each other.
The Howard V. and Edna H. Hong Kierkegaard Library is a world-class resource for Kierkegaard scholars.
Rock On!
By Patricia Grotts Kelly '77
Celebrating 16 years of good music, good times, and good friends, the Limestones are still going strong – and giving back.
Portrait
By Carl Schroeder '05
All the world's a stage for Music Professor Janis Hardy.
Mayo Clinic women's health specialist Dr. Lynn Shuster '80