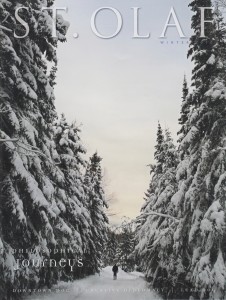 St. Olaf Magazine earned five awards at the 14th annual Minnesota Magazine & Publishing Excellence Awards, including Gold for Overall Excellence, Gold for Best Cover (Winter 2010), Gold for Best Feature Article (Lead Dog), Gold for Best Use of Photography (Lead Dog), and Silver for Overall Best Design. St. Olaf Magazine also received a Gold Award for Best Alumni/Institution Magazine in the 2010 Pride of CASE V Awards.
Arleigh Jorgenson '68 has spent a lifetime inspiring those he encounters in Grand Marais, Minnesota, with a philosophical approach to his life's pursuits. *MMPA Gold Awards for Best Feature Article and Best Use of Photography
The Center for Experiential Learning helps students find their strengths, passions, and livelihoods.
Family physician Jon Hallberg '88 brings a liberal arts sensibility to the practice of medicine.
Good Question
By Patricia Grotts Kelly '77
St. Olaf students find that the study of philosophy and its emphasis on critical analysis is particularly valuable in today's complex world.
St. Olaf Philosophy Professor Gordon Marino counts himself among those who come to philosophy with a need to be made whole, bringing his heart's desires into harmony with reality.
Brianna Saunders '00 puts her economics major to good use in the U.S. State Department.