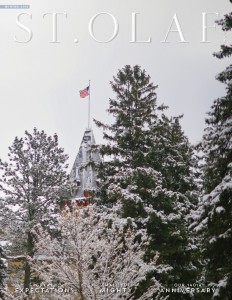 St. Olaf Magazine earned seven "Excellence Awards" at the 18th annual Minnesota Magazine & Publishing Association Excellence Awards gala.The magazine was recognized with silver and bronze awards in overall design, feature design, cover design, feature article, profile article, and regular column. The highest honor of the evening, Gold for Overall Excellence, went to St. Olaf Magazine in the Education category.

What's Inside
St. Olaf College is a 140-year-old national treasure. President David R. Anderson '74 measures the extent of how much has changed at St. Olaf in the past decade and looks ahead to what the college can accomplish going forward.
Nanoscience and nanotechnology, the study and application of extremely small things, is radicalizing the world. Advances in nanotechnology are poised to transform medicine, electronics, and even agriculture. Oles are laying some of the important groundwork for the planet's tiniest technologies.
St. Olaf has partnered with the Posse Foundation, a national leadership and college access program, to bring 10 of Chicago's top students to campus. With only a few months on the Hill behind them, St. Olaf's first posse reveals a group of smart, talented, and community-minded students poised for leadership.
Author Nina McConigley '97 explores the rural immigrant experience in an award-winning collection of short stories.
A gift to St. Olaf by Steven Fox '77 to establish endowed chairs in music and theater has resulted in four alumni being honored: Patrick Quade '65, Karen Peterson Wilson '77, Robert Scholz '61, and Christopher Aspaas '95. A Q&A with Alumni and Parent Relations Director Brad Hoff '89 tells us what's happening in the Office of Alumni and Parent Relations. We meet the new Alumni Board as well as two new St. Olaf Regents, Ward M. Klein '77 and Samuel M. Dotzler '00.
Archival tidbits inform the college's history through numbers.