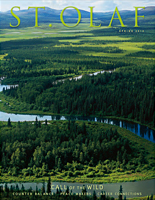 St. Olaf Magazine earned six awards at the 16th annual Minnesota Magazine & Publishing Excellence Awards, including Gold for Overall Excellence, Gold for Overall Best Design, Gold for Best Feature Article (Call of the Wild), Gold for Best Feature Design (Call of the Wild), Gold for Best Profile Article (Counter Balance), and Bronze for Best Single Topic Issue (It's Saturday Night!).
What's Inside
Named "the most important financial journalist of her generation," Gretchen Morgenson '76 is considered the foremost investigative chronicler of America's financial crisis and its fallout.  *MMPA Gold Award for Best Profile
 Forsaking the world of finance for the Alaska Coalition, Scott Hed '90 is fighting to protect one of America's last frontiers: Bristol Bay, Alaska. *MMPA Gold Awards for Best Feature Article and Best Feature Design
For 51 years, Oles have been volunteering for the Peace Corps, taking their cue from one of its first volunteers, Susan Thompson '61.
Peace Makers
By Claire Carlson '12 and J. Trout Lowen
In 2011, the Peace Corps commemorated 50 years of promoting peace and friendship around the world, with each generation of Ole Peace Corps volunteers inspiring the next.
Thanks to the annual Ole Law event, Will Raun '14 enjoyed an Interim packed with hands-on learning and networking opportunities with Ole lawyers, and a pending summer internship.
Tucked  away in a quiet corner on the fifth floor of the English Department is a St. Olaf jewel – the Hauge Room.
In 1875, Miss Ella Fiske became the first music teacher, and third faculty member, at St. Olaf's School.