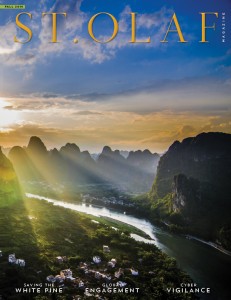 St. Olaf Magazine earned seven "Excellence Awards" at the 18th annual Minnesota Magazine & Publishing Association Excellence Awards gala.The magazine was recognized with silver and bronze awards in overall design, feature design, cover design, feature article, profile article, and regular column. The highest honor of the evening, Gold for Overall Excellence, went to St. Olaf Magazine in the Education category.

What's Inside
Winning entries from the 31st annual Gimse International and Off-Campus Studies photo contest feature images from around the world.
Attacks on U.S. cyber networks have skyrocketed in recent years and are a serious threat to America's national security. At the Department of Homeland Security, the man charged with strengthening and securing the digital networks of all civilian federal agencies is a respected lifelong public servant and an Ole: John Streufert '78.
When Siri Hustvedt was longlisted for the prestigious Man Booker Prize for her latest novel, it was an honor that represented the culmination of a lifetime of work and study.
In northern Minnesota, there was a time when the state's foresters were pessimistic about the survival of the white pine – until Jack Rajala '61 stepped in. A third-generation timber man, Rajala is also a conservationist and one of the foremost practitioners of returning big stands of white pine to the Minnesota forest.