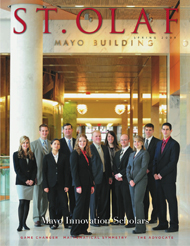 St. Olaf Magazine earned seven awards at the 13th annual Minnesota Magazine & Publishing Association Excellence Awards, including Gold for Overall Excellence, Bronze for Overall Best Design, Bronze for Best Feature Article (Amazing Graze), Silver for Best Regular Column (Almanac), Silver for Best Cover (Fall 2008), Silver for Best Use of Photography (Game Changer), and Bronze for Best Single Topic Issue (World Views, Fall 2008). St. Olaf Magazine also received a Bronze Award for Best Alumni/Institution Magazine in the 2009 Pride of CASE V Awards.
Thousands of hours spent building a machine that took 239 steps to change a light bulb paid off for a group of St. Olaf students when they won the National Rube Goldberg Machine Contest.  *MMPA Silver Award for Best Use of Photography
St. Olaf Classics Professor Jim May is a Renaissance man shaped by Ohio steel towns, Grecian seas, and the Minnesota prairie.
St. Olaf College's Mayo Innovation Scholars are tackling real-world problems at the interface of science and business.
Alison Feigh '00 has been tackling the problem of missing and exploited children for more than a decade.
Thanks to Professor Kay Smith, St. Olaf math students have become more aware of the art and symmetry that exists all over campus.
English Professor Jennifer Kwon Dobbs shares her experiences and love of writing with St. Olaf students.
A look at St. Olaf's culinary history.
St. Olaf honors its retiring faculty: Professors Lynn Steen, Mary Steen, Martha Wallace '75, and Gene Bakko.