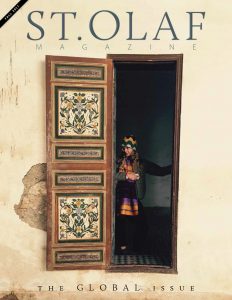 St. Olaf Magazine earned nine "Excellence Awards" at the 21st annual Minnesota Magazine & Publishing Association Excellence Awards 2017 Gala. In the Education category, St. Olaf Magazine was recognized with awards in Feature Writing and Design for "Artistic Inspiration in the Internet Age" by Erin Peterson, "From the Heart" by Marla Hill Holt, and "Line of Inquiry" by Joel Hoekstra, as well as for Overall Excellence, Overall Design,  Regular Column ("Almanac"), and Cover Design. And, for the third year in a row, St. Olaf Magazine was a finalist for the MMPA Magazine of the Year award.
What's Inside
U. S. Senator Amy Klobuchar addresses the Class of 2017, the first senior class since 1957 to graduate from the top of Manitou Heights.
By Sarah Gruidl '17
Ole Achiever Colin Scheibner '17 is part of the research team credited with the discovery of a new dwarf planet.
Photo Essay
The 34th annual Gimse International and Off-Campus Studies Photo Contest features images from around the world.
By Marla Hill Holt '88
Global Semester, St. Olaf's longest-standing faculty-led study abroad program, celebrates its 50th anniversary in 2018. Since its inaugural study abroad program, nearly 1,200 students have participated in Global, creating life-changing memories.
By Joel Hoekstra '92
Five students from Rwanda, their advocate Donna Wiederkehr, and Harvin Furman '89, a Chicago alumnus whose St. Olaf experience led to a bigger commitment in the world, exemplify the college's mission to provide a global experience.
By Erin Peterson
Anne Christianson '07, one of 76 women in science selected from around the world to participate in the Antarctica Homeward Bound expedition, takes a wide-ranging approach to environmental justice.
Interview by Gaju Aline '19
A conversation with religion professor and Luther scholar Anthony Bateza.
Class Notes, On the Shelf, Future Oles, Weddings and Deaths, Alumni & Family Travel
By Jeff Sauve
Generations of first-year Oles have often pondered how they are paired up with their roommate.