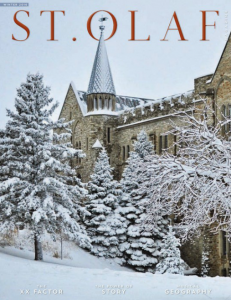 St. Olaf Magazine earned eight "Excellence Awards" at the 19th annual Minnesota Magazine & Publishing Association Excellence Awards gala.The magazine was recognized with four Gold awards in feature writing ("Saving the White Pine" by Greg Breining and "A Slaying in Selma" by Joel Hoekstra) and feature design ("Saving the White Pine"), with Silver awards in Overall Design, writing ("Small But Mighty" by Erin Peterson), and regular column ("Almanac" by Jeff Sauve), and a bronze award for cover design. The highest honor of the evening, Gold for Overall Excellence, went to St. Olaf Magazine in the Education category. And, for the first time, St. Olaf Magazine was named a semi-finalist for the 2015 Magazine of the Year award.
What's Inside
Justice O. Nwigwe '18 has used two St. Olaf entrepreneurial grants (Finstad and Ole Cup) to begin Papa Theo's Fish Farm in his native Nigeria, hoping it will serve as a catalyst to reduce poverty rates and improve the economy in his home village of Ihitta-Ogada.
By Joel Hoekstra '92
Thanks to Associate Professor of Music History Louis Epstein and a team of student researchers, historic work by composers, musicians, writers, artists, and actors who captivated Paris during the 1920s are brought to life in a set of interactive maps that illustrate the musical geography of La Ville-Lumière.
Barry Morrow came to St. Olaf in 1966 to study theater and English, but his vocation took him on a very different path. Throughout his career as a screenwriter, director, and producer, he has been a voice for the vulnerable, putting intellectual and developmental disabilities on the international radar screen through two of his most recognized films, Rain Man and Bill.
St. Olaf College's commitment to high-impact learning goes the distance in the natural sciences. Its focus on committed professors and strong mentorships, small class, and unique research opportunities are giving students the opportunities they need to thrive. With this combination, St. Olaf women  — Alexa Roemmich '15, Maggie Wanek '15, Love Odetola '14, Ambele Mwamelo '16, Serina Robinson '15, and Megan Behnke '16 — have shown again and again that they have what it takes to excel in the sciences at the highest levels.
The St. Olaf Board of Regents welcomes two  new members — Susan Gunderson '79 and Mark Jordahl P'17; Meet the newest members of St. Olaf Alumni Board: Sonja Clark '03, Autumn Berggren Hilden '99, Mark Hermodson '64, Mario Paez '01, and Mark Williamson '88; The St. Olaf Athletic Hall of Fame inducts Craig Fitzsimmons '79, Keith Peterson '84, Brent Eilefson '92, and Nicole Trnka Hess '02. Plus Class Notes, On the Shelf, Future Oles,Weddings and Deaths.
Almanac takes a look back at the college's fabled ski jump, erected in 1910.