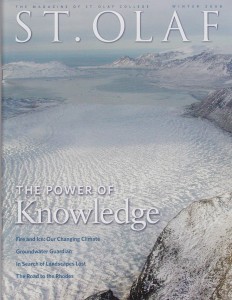 St. Olaf Magazine earned seven awards at the 13th annual Minnesota Magazine & Publishing Association Excellence Awards, including Gold for Overall Excellence and Overall Best Design, Silver for Best Cover (Spring 2008), Gold for Best Feature Article (A Bebop Life), Silver for Best Feature Article (Fire and Ice), Silver for Best Single Topic Issue (The Power of Knowledge, Winter 2008) and Bronze for Best Single Topic Issue (World Views, Fall 2008). St. Olaf Magazine also received a Gold Award for Best Alumni/Institution Magazine in the 2008 Pride of CASE V Awards.
With the rise of global temperatures and unprecedented ice melt in the earth's polar regions, thousands of scientists from 60 nations, including St. Olaf College faculty, students, and alumnus Knut Christianson '05, embark on a coordinated campaign of research that marks a new era in polar science. (MMPA Silver Award, Best Feature Article)
St. Olaf seniors Nicole Novak '08 and Ishanaa Rambachan '08 will soon join an elite group of Rhodes Scholars at the University of Oxford.
Susan Seacrest '75 turned her concern over the quality of local groundwater into a national groundwater campaign to educate policymakers, farmers, businesses, and students about water pollution. Her efforts have flowed well beyond her Great Plains home to all quarters of the nation.
Six St. Olaf summer research students and three St. Olaf faculty members retrace the 1838 expedition of French explorer Joseph Nicollet and botanist Charles Geyer.
St. Olaf Q&A
By Patricia Grotts Kelly '77
For the past 50 years, Chemistry Professor Wes Pearson '54 has taught students to see small and think big.