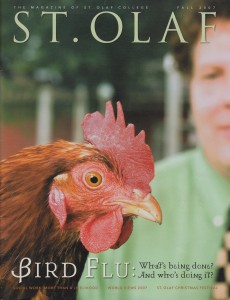 St. Olaf Magazine received Gold Awards for Overall Excellence, Best Overall Design and Best Feature Article (Natural Connections) at the 12th annual Minnesota Magazine & Publishing Association Excellence Awards in 2007. St. Olaf Magazine also received a Silver Award for Best Alumni/Institution Magazine in the 2007 Pride of CASE V Awards.
By Marc Hequet
It's back to Africa for Dr. Bill Stauffer '88, an infectious disease expert who will help Tanzania design its avian influenza surveillance and control program in an effort to stave off what many scientists regard as an inevitable "bird flu" pandemic.
For 30 years, St. Olaf has produced outstanding social workers who live the values of integrity and competence, model service and social justice, and understand the dignity and inherent worth of every person.
For the Swanson's of Northfield, the St. Olaf Christmas Festival is more than a gift of music; it's a longtime labor of love.
Mac '58 and Jackie Gimse approach life as an inseparable team.
Winning entries from the annual Gimse International and Off-Campus Photo Contest feature images from Egypt, Ecuador, India, Greece, England, Italy, New York City, and more.
Fulbright Scholar Elizabeth Jensen '07 looks forward to a world in which anything is possible.