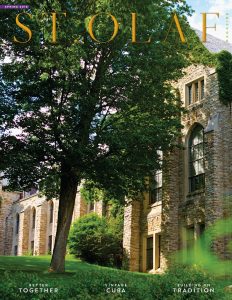 St. Olaf Magazine earned eight "Excellence Awards" at the 19th annual Minnesota Magazine & Publishing Association Excellence Awards gala.The magazine was recognized with four Gold awards in feature writing ("Saving the White Pine" by Greg Breining and "A Slaying in Selma" by Joel Hoekstra) and feature design ("Saving the White Pine"), with Silver awards in Overall Design, writing ("Small But Mighty" by Erin Peterson), and regular column ("Almanac" by Jeff Sauve), and a bronze award for cover design. The highest honor of the evening, Gold for Overall Excellence, went to St. Olaf Magazine in the Education category. And, for the first time, St. Olaf Magazine was named a semi-finalist for the MMPA 2015 Magazine of the Year award.
What's Inside
Bailey Kent '16, who competes in women's tennis while studying pre-med and Spanish, was one of only four athletes nationwide to receive the 2014-15 NCAA Student-Athlete Sportsmanship Award.
St. Olaf honors its 2016 faculty retirees: Mike Swift (biology), Steve Soderlind (economics), John Ophaug (management studies), Sherry Saterstrom '70 (dance), Paul Niemisto (music), and Ron Gallas (art and art history).
By Erin Peterson
Living and learning in community is at the heart of what makes a St. Olaf education distinctive. From study groups, collaborative research, athletics, and club activities to rehearsals and concerts, awareness events, and service projects, the college's vibrant residential culture enhances achievement, creates lasting friendships, and prepares students for life as it is lived beyond college.
Over the past few years, St. Olaf graduates have helped one another get a foot in the door at the Federal Reserve Board of Governors, the Fed's main governing body. The most recent beneficiary of this support is Amanda Bauer '16.
The students who volunteer with Manitou Maple, the maple-sugaring student-run organization founded by Henry Raether '15 and Liam John '16, are practicing the values of sustainability, responsibility, and good stewardship.
By Joel Hoekstra '92
Five Ole architects – Paul Neseth '83, Mark Larson '88, Kurt Gough '88, Nathan Knutson '89, and Chris Strom '95 – have taken the legacy of their former art professors and are paying it forward by introducing students to architecture as a unique liberal arts discipline.
An invitation from the Cuban Ministry of Culture for the St. Olaf Jazz I ensemble perform a series of concerts in Havana resulted in 20 undergraduate musicians working with Cuban jazz artists and playing alongside local ensembles during Spring Break.
Remembering Melvin D. George, St. Olaf's eighth president.
Almanac takes a look back at the early years of basketball at St. Olaf.