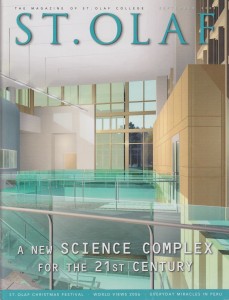 St. Olaf Magazine earned four awards at the 10th annual Minnesota Magazine & Publishing Association Excellence Awards in 2006, including Gold for Overall Best Design, Gold for Best Feature Article (On the Front Lines), Silver for Best Single Topic Issue (Global Oles), and Bronze for Overall Excellence.
At the 9th annual MMPA Excellence Awards in 2005, St. Olaf Magazine earned three awards, including Gold for Overall Excellence, Gold for Overall Best Design, and Gold for Best Single Topic Issue (The Norway Issue).
By Scott A. Briggs '88
To carry its renowned science and mathematics programs deep into the 21st century, St. Olaf is launching a campaign to build a new Science Complex. This state-of-the-art facility will support modern education practices in a world-class academic environment.
Nursing professional Mary Buntrock Johnson '60 applies a holistic approach to help people actively participate in their own healing process.
The St. Olaf Peruvian Medical Experience partners St.Olaf students with professors and top alumni medical professionals, with a goal of changing lives on two continents.
As he undertakes his sixth season of directing A Christmas Carol at the Guthrie Theater in Minneapolis, St. Olaf Artist in Residence Gary Gisselman finds plenty to love about the dramatic turn of his life.
Lefse enthusiasts Bruce '87 and Kathy Anderson Wahl '87 turn their passion for lefse into an annual holiday event that reconnects Oles in the nation's capital.
Winning entries from the Gimse International and Off-Campus Studies Photo Contest include images from Austria, Bangladesh, England, Denmark, India, Italy, Peru, and more.
Boe Memorial Chapel is being refurbished, a handsome new organ is in place, and Professor of Organ and Church Music John Ferguson couldn't be more pleased.
Portrait
By Tom Swift '95
Brynhild Rowberg '39 recalls an era when America set the agenda for the world.