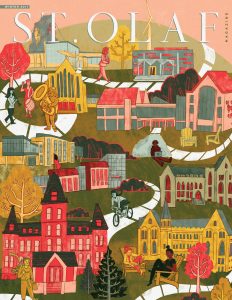 St. Olaf Magazine earned eight "Excellence Awards" at the 20th annual Minnesota Magazine & Publishing Association Excellence Awards 2016 Gala. In the Education category, St. Olaf Magazine was recognized with awards in Feature Writing and Design for "La Géographie Musicale de Paris 1924" (The Musical Geography of Paris 1924) by Joel Hoekstra and "The Power of Story" by Jan Hill, as well as for Overall Excellence, Overall Design, Spread Design ("Vintage Cuba"), Regular Column ("Almanac"), and Cover Design. And, for the second year in a row, St. Olaf Magazine was a finalist for the MMPA Magazine of the Year award.
What's Inside
This fall, St. Olaf embarked on the public phase of a $200 million campaign that will allow future generations of Oles to achieve dreams beyond what they thought possible on the Hill.
By Marla Hill Holt '88
As part of its comprehensive campaign, St. Olaf is committed to building an on-campus ice arena that will foster stronger connections between athletics, academics, and wellness.
By Marla Hill Holt '88
Athletic competition is an integral part of a well-rounded St. Olaf education, helping students develop healthy habits of mind, heart, and body.
Photo By Tom Roster
Ice hockey has been a central feature of Head Men's Hockey Coach Mike Eaves's entire life.
By Erin Peterson
With bright illustrations and ambitious projects, Julie Van Grol '08 uses art to delight and inspire her audience.
Giving in Gratitude, Paul Egeland '65; the college welcomes three new St. Olaf Regents: Callyssa Ozzello '14, Jeffrey W. Bolton, and John Raitt P'12; and four new Alumni Board members. Plus Class Notes, On the Shelf, Future Oles, Weddings and Deaths.
By Jeff Sauve
Almanac remembers St. Olaf's award-winning orator Sigurd T. Sorenson.