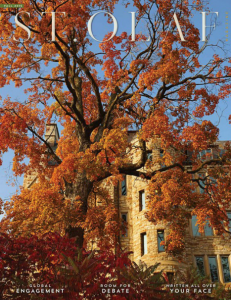 St. Olaf Magazine earned seven "Excellence Awards" at the 18th annual Minnesota Magazine & Publishing Association Excellence Awards gala.The magazine was recognized with silver and bronze awards in overall design, feature design, cover design, feature article, profile article, and regular column. The highest honor of the evening, Gold for Overall Excellence, went to St. Olaf Magazine in the Education category.
What's Inside
Mary McManis '17 "teaches" Watson, IBM's cognitive computing system, the inner workings of higher education.
Photo Essay
Winning entries from the 32nd annual Gimse International and Off-Campus Studies Photo Contest feature images from around the world.
By Erin Peterson
A new cross-disciplinary Institute for Freedom and Community at St. Olaf aims to improve the quality of public discourse on important issues of the day. In the institute's first lecture series, "Community, Race, and Policing in America," guest speakers George Kelling '56, author of "Broken Windows," one of the most prominent theories of policing, and University of California-Santa Barbara Sociology Professor Victor Rios, wrestled with questions about a topic that has roiled a nation, a conversation that is continued here by Kelling, social science analyst Sarah Estill '06, and St. Olaf Religion and Philosophy Professor Edmund Santurri.
By Joel Hoekstra '92
Market research often relies on focus groups and consumer surveys to gauge people's emotional reactions. But Dan Hill '82 believes our reactions to experiences are most clearly revealed in the movements and micro expressions that cross our faces.
The 2015 Alumni Achievement Award recipients — David L. Tiede '62 (Distinguished Alumni Award), John J. Marty '78 (Alumni Achievement Award), and Alan C. Shepard '83 (Alumni Achievement Award) — are honored for their lifelong achievements and professional contributions; How to stay connected to Oles across the country; Remembering Kenneth Jennings '50; Stay Connected to Oles Across the Country; Class Notes, On the Shelf, Future Oles, Weddings and Deaths.
By Jeff Sauve
Almanac remembers the college's annual Homecoming bonfire, one of the longest-held traditions at St. Olaf.