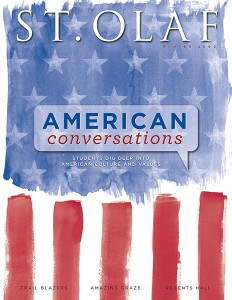 St. Olaf Magazine earned seven awards at the 13th annual Minnesota Magazine & Publishing Association Excellence Awards, including Gold for Overall Excellence, Bronze for Overall Best Design, Bronze for Best Feature Article (Amazing Graze), Silver for Best Regular Column (Almanac), Silver for Best Cover (Fall 2008), Silver for Best Use of Photography (Game Changer), and Bronze for Best Single Topic Issue (World Views, Fall 2008). St. Olaf Magazine also received a Bronze Award for Best Alumni/Institution Magazine in the 2009 Pride of CASE V Awards.
By Patricia Grotts Kelly '77
From its beginnings, the American Conversations program has encouraged students to live Thomas Jefferson's dream that free and educated citizens should learn to understand what is going on in the world, and to keep their part of it going right.
Todd Churchill '93, a modern steward of an ancient pursuit, is raising cattle the old-fashioned way and the health benefits are amazing. *MMPA Bronze Award for Best Feature Article
St. Olaf alpine and Nordic skiers are committed to excellence on the snow and in the classroom.
Regents Hall of Natural and Mathematical Sciences has assumed its place on the Hill.
For the past 25 years, Russell A. Anderson '64 has worked along side judges, administrators, and lawyers to improve the justice system in Minnesota.
Economics Professor Xun Pomponio provides insight into the global financial crisis.
Over the years some campus pranks have achieved nearly legendary status.