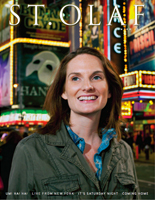 St. Olaf Magazine earned six awards at the 16th annual Minnesota Magazine & Publishing Excellence Awards, including Gold for Overall Excellence, Gold for Overall Best Design, Gold for Best Feature Article (Call of the Wild), Gold for Best Feature Design (Call of the Wild), Gold for Best Profile Article (Counter Balance), and Bronze for Best Single Topic Issue (It's Saturday Night!).
What's Inside
Widely traveled and internationally known, the 100-year-old St. Olaf Choir continues to delight audiences, enrich student musicians, and offer music as a form of worship and praise.
After a long day of academics, a little uninhibited stage time is just what Ole improvisers need to unwind.
Ole parent Steve Higgins brings his Midwestern roots to late night comedy.

From St. Olaf to Second City to Saturday Night Live, Shelly Gossman '99 is on a roll.
Coming Home
By Marla Hill Holt '88
Through weekly letters to Garrison Keillor, writer Holly Harden '89 helps create the bucolic world of Lake Wobegon.
The St. Olaf Board of Regents welcomes three new members:  Gregory Buck '76, Rev. Dr. William Gafkjen '70, and Kate Bollman Pearce '01.
A simple request in 1977 by sophomore Scott Emkovik results in his legendary ascent into St. Olaf College lore.