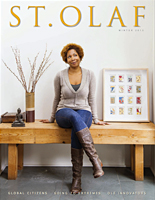 St. Olaf Magazine earned six "Excellence Awards" at the 16th annual Minnesota Magazine & Publishing Association awards (2012): Gold for Overall Excellence; Gold for Overall Design; Gold for Feature Article (Call of the Wild); Gold for Profile Article (Counter Balance); Gold for Feature Design (Call of the Wild); and Bronze for Single Topic Issue (It's Saturday Night!).
What's Inside
St. Olaf's Davis United World College Scholars hail from around the world, enriching the St. Olaf community through intercultural learning and friendship.
Five UWC Davis Scholars — Sophie Dekker '15, Preben Bay '14, Pumla Maswanganyi '16, Mirwais Wakil '15, and Kagan Sen '14 — reflect on their journeys from home to United World College to St. Olaf.
In the span of a single year, Eric Larsen '93 trekked to both of Earth's poles and summited Mount Everest in an effort to bring attention to climate change and other environmental issues. *MMPA Gold Award for Best Feature Article
Ole innovators Lowell Pickett '71, Lisa Stevens '85, Vanessa Trice Peter '93, Adam Gettings '04, David Rose '89, Erik Brust '14, Andrew Sather '14, Kilian Wald '14, and Connor Wray '14 share their paths to launching and running successful, unique ventures.
In 1972, St. Olaf students protested the war in Vietnam in song at the nation's capital.