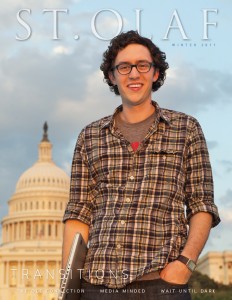 St. Olaf Magazine earned seven awards at the 15th annual Minnesota Magazine & Publishing Excellence Awards, including Gold for Best Overall Design, Gold for Best Spread Design (A Sense of Place), Silver for Best Feature Design (Catch & Release), Silver for Best Spread Design (World Views 2010), Silver for Best Regular Column (Almanac), Bronze for Overall Excellence, and Bronze for Best Profile Article (Bright Green Research). St. Olaf Magazine also received a Gold Award for Best Alumni/Institution Magazine in the 2010 Pride of CASE V Awards.
Portrait
By J. Trout Lowen
Music Professor Dan Dressen enjoys the best of many worlds.
Alumni and students reflect on what their connection to the Career Network for Oles program has meant to them and, for our newest alumni, how it has eased their transition into life after St. Olaf.
Andrew Foxwell '08 has transitioned the entrepreneurial skills he developed at St. Olaf to power up a venture for iConstituent in Washington, D.C., further blending his passions for technology and politics.
Wait Until Dark
By Mara Kumagai Fink '11, Benjamin Hovland '11 and Evan Uribe '11
Another side of Manitou Heights emerges after 5 p.m., one managed by after-hours staff and students, who are busy attending committee meetings, organizing Quidditch games, investing in a fourth meal to get them through the evening, and feeding the leopard frogs.
Is extending life more important than life itself? St. Olaf alumni and faculty are deeply involved in trying to answer this question for themselves and for the next generation of doctors, nurses, social workers, and personal caregivers.
St. Olaf Q&A
By Patricia Grotts Kelly '77
St. Olaf Magazine catches up with Rhodes Scholar Katherine Larson '00.
In 1892 Miss Martha Turner never suspected the plot being hatched against her by thirty-two St. Olaf Academy boys.
By Suzy Frisch: The St. Olaf Board of Regents welcomed five new members this fall: John B. Grotting '71; Alphonso Tindall '76; Jody Kleppe Horner '84; Jon W. Salveson '87; and Andrew Foxwell '08; By Carolyn Nitz '69: The new Alumni Board is Balancing Tradition and Progress; By Virg Foss '62: The Boys of Fall; By Karen K. Hansen '77:Oles are Alt for Norge