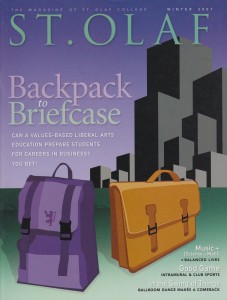 St. Olaf Magazine received Gold Awards for Overall Excellence, Best Overall Design and Best Feature Article (Natural Connections) at the 12th annual Minnesota Magazine & Publishing Association Excellence Awards in 2007. St. Olaf Magazine also received a Silver Award for Best Alumni/Institution Magazine in the 2007 Pride of CASE V Awards.
Ole executives and entrepreneurs agree that a values-based education at St. Olaf prepared them well for careers in business.
Dean '55 and Rosemarie Buntrock were honored in November with the prestigious Regents' Award for their years of service, their generosity, and their business expertise.
Heather Scheiwe '04 creates Alive Magazine to allow women a chance to creatively shape their identities.
As ballroom dance makes a comeback nationwide, students are discovering the joy and release of Two-Stepping their troubles away.
Good Game
By Kelly Wilson '07
With two-thirds of the student body enjoying more than 20 intramural and club sports throughout the year, Oles find ways to stay fit, have fun, and compete.
St. Olaf student-musicians find that the combination of music and science strikes just the right chord.
English Professor Jonathan Hill has been instilling an appreciation for literature inside the classroom and in the world's far corners for nearly 40 years.
Timothy Mahr '78 finds harmony in a life of conducting and composing.