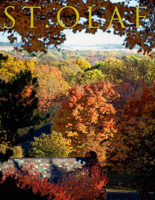 St. Olaf Magazine earned seven awards at the 15th annual Minnesota Magazine & Publishing Excellence Awards, including Gold for Best Overall Design, Gold for Best Spread Design (A Sense of Place), Silver for Best Feature Design (Catch & Release), Silver for Best Spread Design (World Views 2010), Silver for Best Regular Column (Almanac), Bronze for Overall Excellence, and Bronze for Best Profile Article (Bright Green Research). St. Olaf Magazine also received a Gold Award for Best Alumni/Institution Magazine in the 2010 Pride of CASE V Awards.
What's Inside
The Collaborative Undergraduate Research and Inquiry (CURI) program is creating a community of researchers across campus.
A rich heritage and legacy surrounds those who participate in the annual St. Olaf Christmas Festival, one of the longest-running observances of its kind in the world.
A joint venture between St. Olaf and The Nature Conservancy provides classroom opportunities for biology students along the Mississippi River.
A gift from Elizabeth Nabel '74 supports summer research opportunities for three students interested in careers in science and medicine.
Winning student entries from the annual Gimse International and Off-Campus Studies photo contest feature images from Berlin, Croatia, Guatemala, Istanbul, Lithuania, New Your City, Nicaragua, Spain, and more.
St. Olaf honors nine alumni who exemplify the college's tradition of excellence: John F. Haugen '86 (Distinguished Alumni Award); Alison l. Smith '03 (Graduate of the Last Decade Award); David Stephen Boe '58 (Alumni Achievement Award); Virginia K. Olsen Molgaard '61 (Alumni Achievement Award); Ian C. Kelly '77 (Alumni Achievement Award); Mark A. Peterson '66 (Alumni Achievement Award); Paul V. Martinson '57 (Distinguished Service Award); Paul H. Christenson '55 and Lois Wold Christenson '55 (Distinguished Service Award).
The noted architect Frank Lloyd Wright lectured only once at St. Olaf College, a day that proved memorable if not theatrical.