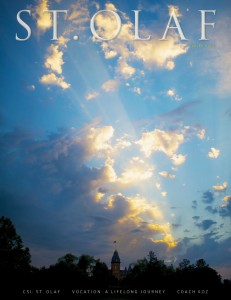 St. Olaf Magazine most recently earned five "Excellence Awards" from the Minnesota Magazine & Publishing Association: Gold for Overall Excellence, Gold for Cover Design (Winter 2013), Gold for Feature Article ("Going to Extremes"), Silver for Profile Article ("Elephant Man"), and Gold for Regular Column (Almanac).
What's Inside
From cold cases to crime scenes, from fingerprinting to blood and DNA analysis, Professor Doug Beussman '92 is helping his students solve mysteries by digging into the science of forensics, the puzzle-loving, crime-fighting cousin of analytical chemistry.
St. Olaf is committed to becoming the best in the country among liberal arts colleges at helping students discern their vocation, and then translating that calling into a career that enables them to embrace the challenges of a changing world.
Television chefs and their culinary skills are big business, and finding your niche isn't easy. Long before Julie & Julia found its way into movie theaters, entrepreneur Nick Fauchald '01 was writing about food and cooking his way through Mastering the Art of French Cooking. Today he's transforming cookbooks as we know them.
Coach Dan Kosmoski finished his 20th year at St. Olaf by leading the men's basketball team to a MIAC Playoff Championship after a record-breaking season. While "Coach Koz" has been recognized for his skills with conference and regional Coach of the Year honors, he credits his players for the team's successful season.
After serving the college for a combined total of 293 years, these faculty are retiring this year: Associate Professor of Physics David Dahl, Professor of German Karl Fink, Associate Professor of Music Janis Hardy, Professor of English Jan Hill, Professor of Music Gerald Hoekstra, Professor of Biology Ted Johnson, Professor of Biology Henry Kermott, Associate Professor of Chinese and Asian Studies Pin Wan, and (not pictured) Professor of Mathematics Arnie Ostebee '72.