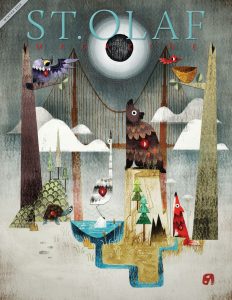 St. Olaf Magazine earned nine "Excellence Awards" at the 21st annual Minnesota Magazine & Publishing Association Excellence Awards 2017 Gala. In the Education category, St. Olaf Magazine was recognized with awards in Feature Writing and Design for "Artistic Inspiration in the Internet Age" by Erin Peterson, "From the Heart" by Marla Hill Holt, and "Line of Inquiry" by Joel Hoekstra, as well as for Overall Excellence, Overall Design,  Regular Column ("Almanac"), and Cover Design. And, for the third year in a row, St. Olaf Magazine was a finalist for the MMPA Magazine of the Year award.

What's Inside
St. Olaf basketball team captain, Academic All-MIAC, and economics major Robert Tobroxen '18.
As part of the Piper Center's New York City Connections Program, Oles spent fall break exploring careers in fine arts, business, finance, journalism, and publishing.
Ole Achiever and violinist Hannie McGarity '19 entered the Edvard Grieg Society of Minnesota's first-ever string competition and took home the Grand Prize.
By Marla Hill Holt '88
From St. Olaf's founding by Norwegian immigrants to today's "Dreamers," the college's commitment to immigrants from all nations is reinforced by its mission. Alumni and students share their personal immigration stories in the hope that Oles will continue to work alongside neighbors, friends, and strangers to welcome all voices and experiences to America..
By Greg Breining
Katarina Veem '86, a water policy expert at the Stockholm International Water Institute, is confronting today's most pressing environmental challenges.
By Erin Peterson
Born to immigrant parents who made their way to California before he was born, animation artist and children's book illustrator Glenn Hernandez '02 is following his dream.
By Lynette Lamb
Jane Prine Rydholm '95 began her career as an assistant attorney general; today she's fighting human trafficking and working to build a strong juvenile restorative justice system.
By Rebecca Carcaterra '18
Visiting political science professor Tim Collins '10 examines the prevalence of hypocrisy in American politics.
St. Olaf recognizes Alumni Achievement Award recipients Siri Hustvedt '77, René Clausen '74, Monthian Buntan '90, Mary Reid Kelley '01, and Ruth Christenson Sorenson '81 and Arne Sorenson P '10, '11, '14; the 2018 Alumni Board; Class News and Milestones.
By Jeff Sauve
Remembering many of the college's former faculty and staff offers Oles a unique connection to the past.