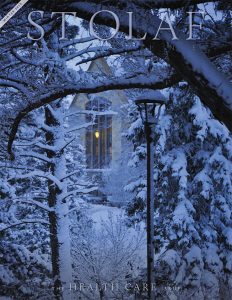 St. Olaf Magazine earned 12 "Excellence Awards" at the 22nd annual Minnesota Media & Publishing Association Excellence Awards 2018 Gala. In the Education category, St. Olaf Magazine was recognized with awards in Feature Writing and Design, including Single Page or Spread Design "Oles Can. Oles Will.", Best Feature Article and Design "Mother Nature's Daughter" by Erin Peterson, Best Feature Article "One Nation" by Marla Hill Holt, and Profile Article "Great Explorations" by Erin Peterson, as well as for Overall Excellence, Overall Design,  Regular Column ("Almanac"), and Best Use of Photography "Globally Engaged" and "In Focus." And, for the fourth year in a row, St. Olaf Magazine was a finalist for the MMPA Magazine of the Year award.
What's Inside
By Renata Erickson '19
STOGROW student farmers harvested more than two tons of campus-grown produce as another Minnesota harvest season came to an end.
By Suzy Frisch
Victoria Celano '13 is a tireless advocate in her Chicago community whose life reflects her dual passions of social justice and a desire to serve others.
By Marla Hill Holt '88
St. Olaf has a strong track record of preparing students for careers in medicine and the health sciences, with students benefiting from a rigorous and broad liberal arts education and the college's pre-health program, along with support from the Piper Center for Vocation and Career.
By Greg Breining
For the past 14 years, students with an interest health care have traveled to Peru as part of the Peruvian Medical Experience Interim, partnering with alumni medical professionals who provide life-changing experiential learning opportunities.
By Erin Peterson
If you're one of the estimated 100 million Americans suffering from chronic pain, TRIA Orthopedic Center's Peter Stiles '05 and Boston Scientific's Ben Fetters '05 are in your corner.
By Marla Hill Holt '88
St. Olaf connections to Dodoma Christian Medical Center in Tanzania run deep, beginning with its founders, Bob and Barbara Griffin P'81, P'83, and continuing with a globally engaged community of St. Olaf alumni and parents.
By Joel Hoekstra
St. Olaf alumnae, Jelena Dirks '96 and Kelly Kaduce '96, who are at the top of their game in music, talk about how women can push even further in the arts nearly.
Diving into the Shark Tank!; Introducing the 2018 Alumni Achievement Award recipients Wendy Helgemo '91, Jon Hallberg '88, and Craig Hella Johnson '84; and new St. Olaf Alumni Board members Aldra Allison '77 and Bill Lindberg '77; Class Notes, On the Shelf, Future Oles, Weddings, Deaths, and Alumni & Family Travel
By Jeff Sauve
A look back at the English Department's Coffee Club, established in 1929.