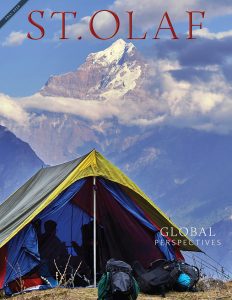 St. Olaf Magazine earned 12 "Excellence Awards" at the 22nd annual Minnesota Media & Publishing Association Excellence Awards 2018 Gala. In the Education category, St. Olaf Magazine was recognized with awards in Feature Writing and Design, including Single Page or Spread Design "Oles Can. Oles Will.", Best Feature Article and Design "Mother Nature's Daughter" by Erin Peterson, Best Feature Article "One Nation" by Marla Hill Holt, and Profile Article "Great Explorations" by Erin Peterson, as well as for Overall Excellence, Overall Design,  Regular Column ("Almanac"), and Best Use of Photography "Globally Engaged" and "In Focus." And, for the fourth year in a row, St. Olaf Magazine was a finalist for the MMPA Magazine of the Year award.

What's Inside
By Renata Erickson '19
Emily Carr '19, catcher for the St. Olaf softball team, not only created her own major, she created her own MIAC internship.
By Renata Erickson '19
Summer research conducted by CURI students Bethany Tritz '20 and Diane Vargas '19 examined the importance of local milkweed varieties in monarch migration.
Photo Essay
The 35th annual Gimse International and Off-Campus Studies Photo Contest features images from around the world.
By Kim Ode
Ron '60 and Bonnie Schardin Dahl '61 sailed Lake Superior for 43 years, and while their sailing days have ended, their love of adventure is as strong as ever.
By Marla Hill Holt '88
St. Olaf offered its first course about Asia in 1938. Eighty years later, the Department of Asian Studies is illuminating Asia's wealth of cultural, historical, religious, and political diversity for 21st-century students.
By Marla Hill Holt '88
Retired Simpsons animator Utit Choomuang '75 has traveled full circle. His curiosity and artistic talents catapulted him to opportunities thousands of miles from his Thai jungle village before bringing him back to his birthplace nearly 50 years later.
Class Notes, On the Shelf, Future Oles, Weddings, Deaths, and Alumni & Family Travel
By Jeff Sauve
Almost 140 years have passed since photographer Ira E. Sumner captured the moment depicting the earliest days of St. Olaf and its inaugural class of Oles.