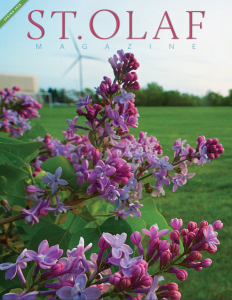 St. Olaf Magazine earned nine "Excellence Awards" at the 21st annual Minnesota Magazine & Publishing Association Excellence Awards 2017 Gala. In the Education category, St. Olaf Magazine was recognized with awards in Feature Writing and Design for "Artistic Inspiration in the Internet Age" by Erin Peterson, "From the Heart" by Marla Hill Holt, and "Line of Inquiry" by Joel Hoekstra, as well as for Overall Excellence, Overall Design,  Regular Column ("Almanac"), and Cover Design. And, for the third year in a row, St. Olaf Magazine was a finalist for the MMPA Magazine of the Year award.

What's Inside
By Julie Greene '18
Darrius Morton '19 has already auditioned for, and been accepted into, the ranks of the Minnesota Opera chorus, performing in all five of the ensemble's operas.
By Rebecca Carcaterra '18
Johanna Beam '20, the American Bird Association's Young Birder of the Year, combines natural science with illustrative art.
By Suzy Frisch
St. Olaf honors Professors John Barbour, Christopher Brunelle, Sylvia Carullo, Paddy Dale, Chris Daymont, Robert Entenmann, Dona Freeman, Diana Postlethwaite, Meg Ojala, and Robert Smith, who are leaving St. Olaf this year.
Sphagnum Moss in Merle's Bog, photo by Art Professor Meg Ojala.
By Marla Hill Holt '88
Exercise science majors are completing a yearlong Directed Undergraduate Research project that studies functional movement and injury prevention in St. Olaf dancers and violinists. By exposing students to the rigors of research, this project is one of the ways that St. Olaf provides students with a high-impact educational experience.
By Erin Peterson
The study of humanities is helping students confront the most important issues of the day by challenging ideas in a deep and systemic way, and drawing meaningful parallels between real-time events and those in the past.
By Joel Hoekstra '92
For more than a century, the college annual chronicled the people, events, and trends that shaped St. Olaf each year. It was a piece of art, a platform for commentary, and a repository for formal and informal photos. Did the digital age lead to its demise?
By Joel Hoekstra '92
Lars Midthun '16, a first-time filmmaker, retraces his grandfather's post-World War II tour through Norway as the pilot for the Norwegian Crown Prince.
By Lynette Lamb
St. Olaf Magazine writer Lynette Lamb has a conversation with mystery writer Erin Hart '80.
Class Notes, On the Shelf, Future Oles, Weddings, Deaths, and Alumni & Family Travel
By Jeff Sauve
The history of ice hockey at St. Olaf College has all the elements of a great story: excitement, drama, humor, and a hero with pluck who persevered against adversity.